This section is a global section that will be seen on all pages
Top Content Title
This is an additional section to be able to add content
2022/23 Fall + Winter - registration open
Schedule
The Collingwood Skating Club offers a variety of programs running up to three nights a week.
Session one will run from September 30th to Session two will run from January 10th to March 31st, 2023.

*Please note, there will be no skating on Friday October 28th, November 4th, November 18th, December 9th and January 13th. There will be no make-up sessions for these dates.
Lesson Times
Tuesday (4:30 - 9:00pm)
4:30 - 5:30pm: STARSkate Program (Intermediate)

5:30 - 6:00pm: Pre-CanSkate Program (Beginner Skate)

6:00 - 7:00pm: CanSkate Program (Learn-to-Skate) + Advanced CanSkate Program

FLOOD (10 min)

7:10 - 8:50pm Advanced STARSkate Program (Senior)

FLOOD (10 min)
Wednesday (4:30 - 7:00pm)
4:30 - 6:20pm: Advanced STARSkate Program (Senior)

5:00 - 6:20pm: STARSkate Program (Intermediate)

6:20 - 6:50pm: Pre-CanSkate Program (Beginner Skate) NEW THIS FALL!!

FLOOD (10 min)
Friday (4:00 - 6:30pm)
4:00 - 5:20pm: Advanced STARSkate Program (Senior)

5:20 - 6:20pm: STARSkate Program (Intermediate) + Advanced CanSkate Program

FLOOD (10 min)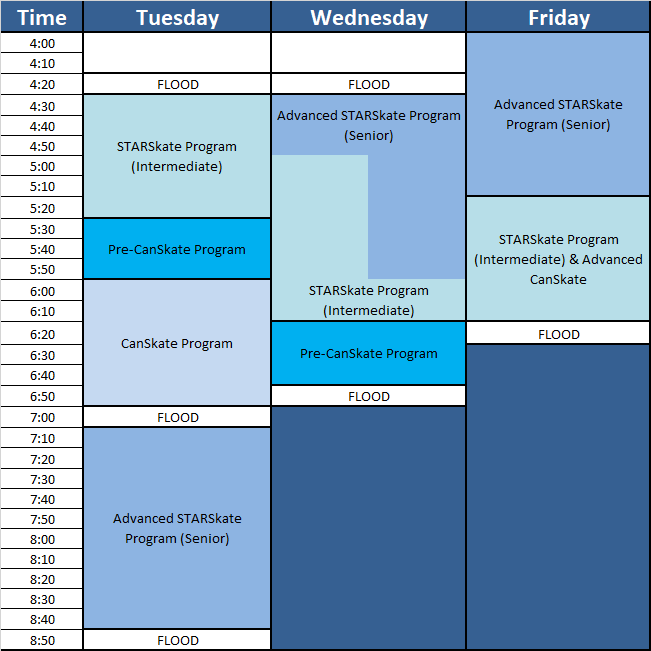 Bottom Content Title
This is an additional section to be able to add content